If you need to book meetings at random moments, then an online appointment scheduling platform like Calendly is a great tool to do that.
If you're wondering, what is calendly? It's a simple scheduling tool that started out giving people the ability to share their availability someone, in order to identify an available time to schedule a call.
Then you might require more from your free go-to scheduling app and realise that for a variety of scheduling scenarios, Calendly is missing some key features. Then, you might think to yourself, I need more automation from my scheduling app and want to remove sending links back and forth, and then maybe you're willing to find the right paid tool.
This tool's focus isn't just sending booking links but rather automating the entire process of scheduling meetings with your leads, by removing the friction points.
Lets dive deeper and find the right product for you.
Are you looking for an online appointment scheduling platform? Let's look at several Calendly alternatives that might suit your needs.
But if you are wondering what is calendly? Calendly is a simple calendar scheduling tool, and the Calendly free plan facilitates a great one-on-one free meeting scheduler.
Now you already know that exchanging schedules is a time-consuming process. Worst, you may lose a competent prospect simply because it is too time-consuming to match up schedules.
That's why you're searching for a free meeting scheduler like Calendly can help you schedule meetings online. You want to effortlessly convey your availability while allowing your prospect to select a time for a meeting.
Alternatively, you may be prepared to spend your budget for improved analytics, extensive calendar setup, scheduling processes and direct integrations with other platforms.
Let's choose which online scheduling platform is the best fit for you.
What is Calendly tool?
Calendly is an online scheduling tool that allows users to schedule meetings and appointments with others easily. It integrates with popular calendar applications such as Google Calendar, Outlook, and iCloud, making it simple for users to manage their schedules in one place.
With Calendly, users can create custom scheduling links, set availability preferences, and allow others to schedule appointments with them based on their availability. The tool sends out automatic reminders to both the user and the invitee, reducing the risk of missed appointments.
Calendly is popular with individuals, small businesses, and large organizations alike, as it helps to simplify the scheduling process and saves time. It offers various pricing plans, including a free plan and a range of paid plans that offer more advanced features.
The 10 Best Calendly Alternatives
Here is our list of the top Calendly alternatives, beginning with our own:
1.QikChat – The best overall.
2.Acuity Scheduling – Ideal for service-based enterprises.
3.ScheduleOnce – Ideal for small teams.
4.Doodle – Ideal for large group meetings.
5.Salesloft – Ideal for sales phoning and texting.
6.Outreach – Best for artificial intelligence assistance.
7.YouCanBook.me – For small, medium, or large businesses.
8.10 to 8 – For large firms.
9.Mixmax – The best sales engagement platform.
10.Setmore – Ideal for businesses and individuals.
1. QikChat – Best Overall 
If you're looking for a tool that can automate the entire process of sending a lead a scheduling link with the intention of hoping to schedule a meeting. Then, to be faced with sending the same scheduling link 4 to 6 times at minimum to finally get the lead to select a time to meet online or in person, then QikChat is the most suitable at the number one pick for Calendly alternatives for you.
For businesses generating inbound leads from their marketing initiatives, our free online scheduler is the most suitable option as it focuses on intercepting where these online visitors are filling in a lead magnet to become leads.
Removing the laborious friction points, to receive the most value from your leads, by creating the opportunity of the fastest lead to meeting time. We are also coming out with associated features to bring team meetings together for inbound leads, creating a new form of group meetings experience. Hint; the Doodle meeting scheduler is known to do this and they have built a great platform but is it meeting the changing needs of how people are having meetings online?
This is where QikChat differs from other Calendly alternatives, check out the summary of some of our key features below. 
Features of Qikchat Include:
Meeting insights and opportunities dashboard: Have all the meeting metrics you need to uncover lead to meeting insights that enable your team to instantly identify lead to booking changes they can action to increase attendance rates and decrease cancellations. 
No separate landing pages: QikChat bypasses taking leads to a separate booking page, where most of the lead drop off's rate will occur. Integrating to your lead form, the lead receives the team members availability in their email, right after form completion.  
QikChat Calendar: With one click, reschedule any meeting, at any meeting stage, offer earlier availability or new availability instantly to mitigate the high risk meeting no shows and cancellations. 
Round robin distribution: where you are able to re-assign a lead after they are in the queue. Providing greater flexibility to your lead distribution.
Teams: Have a complete view that shows you exactly which team members your leads are meeting with, the meeting stage, completed vs non completed meetings. Understanding where any sales process gaps may lie, with the right data to action immediately. 
1-click scheduling, with an auto-accept feature optional. Removing the need for a lead to accept the calendar invite after they have already selected a time. Calendly scheduling has definitely influenced this significantly but online scheduling platforms are evolving to remove not just one but all the friction points in this process.
Integrations: Integrate with your calendar right after sign up. Alongside all most used landing page builders and lead forms. Focusing on a superior lead capture experience, to accelerate the lead to booking time. 
When to use Qikchat:
When you want an online appointment scheduling platform to automate the entire process of scheduling a meeting with your leads.
When you want to utilise this level of automation straight from landing page builders, to receive the most value from your leads.
You have a team that engages in some form of sales or are a single operator and require booking meetings with your leads.
You want complete synchronisation with your Salesforce and your calendar.
You require a comprehensive solution that automates a large part of the inbound scheduling process and want to move far away from the Microsoft bookings vs calendly conversation (its old news!).
Pricing of Qikchat:
Check out our pricing page here.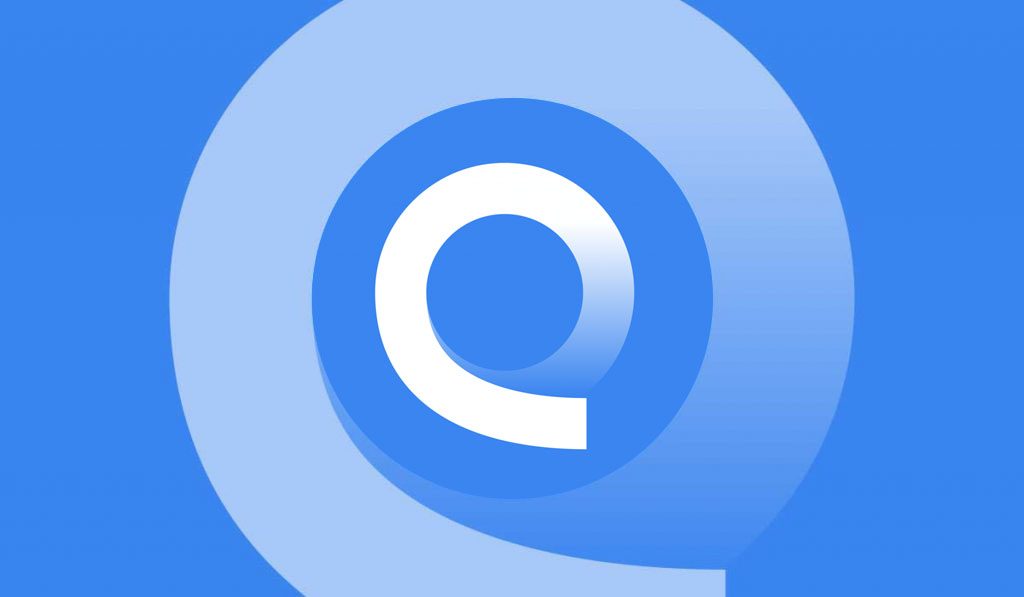 2. Acuity Scheduling – Ideal for businesses that provide services
As a Squarespace company, Acuity, provides a great online appointment scheduling platform product that lets you set up a calendar on your site where customers can place a booking and pay all at the same time.
Given the nature of service-based businesses, there is a requirement to be able to pay as well as schedule, as the services delivered are provided when the booking is made. The function of the booking is providing the service not starting a sales engagement process like some of the other tools mentioned throughout this article.
That was one of the this platforms key differences from other Calendly alternatives, but as time has moved on, Acuity has certainly evolved. 
Features of Acuity Scheduling include:
Receiving payments online, from payment gateway's like Stripe, Square, or PayPal.
Can facilitate gift vouchers, packages, group bookings and ongoing memberships.
Include multiple locations and staff to show your clients the availability they are looking to see.
Numerous video conferencing integrations.
Being able to maintain within the brands tone and experience.
When to Use Acuity Scheduling:
You are in a services environment, such as a hairdresser, spa, medical office etc.
Your Squarespace website requires a basic scheduler.
You wish to employ your brand colours and showcase your logo.
You require payment online.
You wish to provide extra services such as gift cards, membership, etc.
Pricing for Acuity Scheduling:
Nope, there's no free version. However, Acuity Scheduling offers a seven-day trial. The three plans offered, vary from $14 to $45 monthly if purchased annually.
The main distinctions among the plans that this type of online appointment scheduling platform provides are the number of employees that can utilise the planner, text message notifications, sales of memberships and branding.2.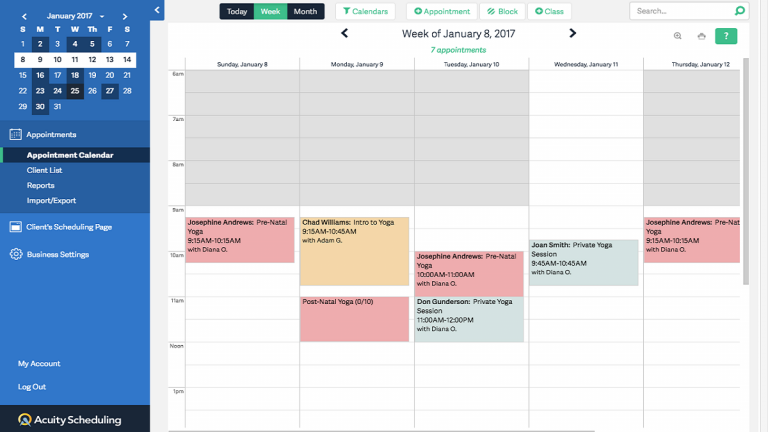 3.ScheduleOnce – Ideal for small teams
ScheduleOnce is like a mixture of systems for appointment booking and meeting scheduling.
For service based businesses with small teams, this is a great choice and you can start off with their free meeting scheduler. Nevertheless, compared to some of its rivals, it has a limited number of features.
It's one of those excellent Calendly alternatives since it is inexpensive and has several useful features.
Features of ScheduleOnce include:
As an aspect of a meeting package, it allows clients to plan a set of meetings.
Customers can reserve meeting rooms when scheduling meetings.
Regulate your group's workload by setting weekly or daily meeting limitations.
Charge for meetings and cancellations via PayPal.
When to use ScheduleOnce:
You want personalised reservation website pages.
You require a payment gateway to charge for appointments, cancellations and automate invoicing and refund procedures.
You want your customers to book a sequence of meetings, such as coaching and training programs.
Pricing for ScheduleOnce:
Quite different from some of the other Calendly alternatives that provide a decent amount of functionality, ScheduleOnce provides a free offer with minimal functionality. To access the extra useful features, you'll need to switch to the Teams option, costing $9 per month.
For an enterprise plan, the pricing isn't displayed, you'll have to request a unique quote for their team.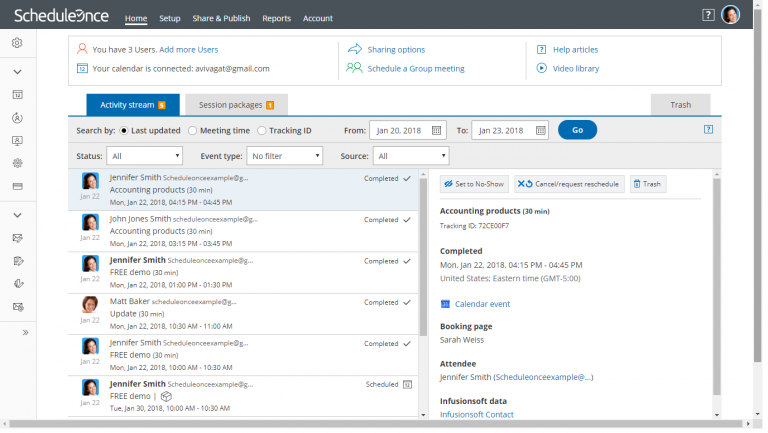 4. Doodle – Ideal for larger group meetings
Doodle meeting scheduler is interesting as its scheduling is so simple to use, which could pose as its biggest drawback, but at the same time operates really well on mobile.
When comparing against other Calendly alternatives like Calendly vs Doodle, to be frank, what makes Doodle fantastic is its overall simplicity, but at the same time, it doesn't have other complex features that other products do.
Features of Doodle include:
Finding out when team members are available, no matter the calendar provider they use.
Determining the optimal timing for large and smaller meetings. See who is available (or could be) with "if needed" by votes.
Automate the process of checking availability over different time zones.
You can use your business logo or brand colours on the Pro, Team, and Enterprise plans.
When to use Doodle:
You require extra features of joint polls and questionnaires.
You need to manage big groups of people.
You prefer customised branding and logo.
Pricing of Doodle:
Doodle meeting Scheduler has a free version, but it only provides polling functionality and includes advertisements.
Switch to the Pro plan for $6.95 per month, but only for a single user. The Team plan is available at $44.75 per month for at least five members and climbs up by increments of 10, so ten members will cost $89.50 per month.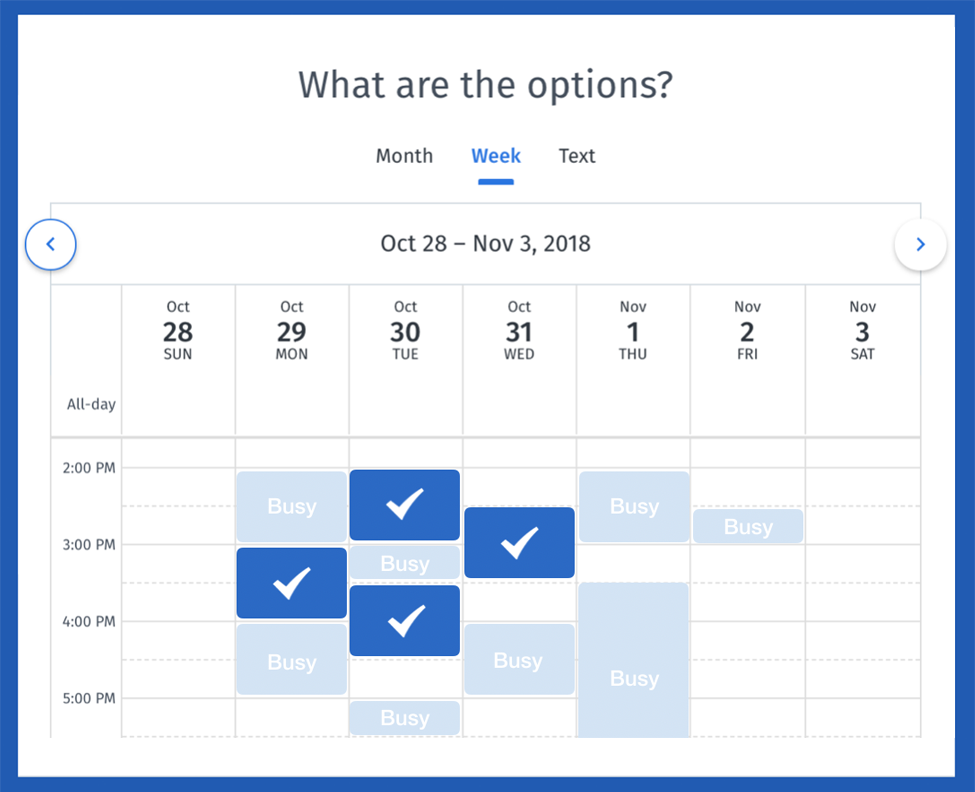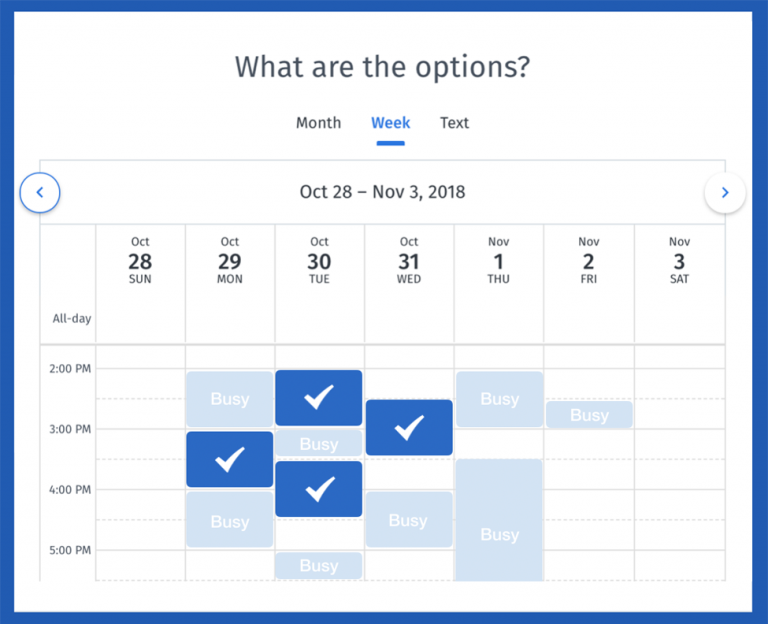 5.Salesloft – Ideal for sales phone calls and texting
Salesloft's online appointment scheduling platform is near the top of the list of Calendly alternatives, integrating directly with calendars from Gmail and Outlook. Allowing you to provide calendar links so prospects can view your availability and select a time to book a meeting immediately.
One very handy feature of Salesloft is the Dialer and Messaging, which enables one-click sales phoning and sales messaging. Making calling and texting at scale an easy exercise, increasing productivity.
It might look enticing to tap into the calendar function of your present sales engagement platform, keep in mind that these are additional functions developed on the platform's foundation. Hence, they miss the intricacies required for sophisticated marketing and selling in teams.
Features of Salesloft include:
A personalised scheduling link for yourself or a colleague in any email.
Utilise a scheduled meeting as a critical point in the selling cycle to activate corresponding automated rules.
Engage with potential clients easily from the Salesloft platform, a smartphone, or landline without losing any data.
Unlimited talking and texting plans to communicate to contacts in the US, Canada, the Caribbean and Europe.
When to use Salesloft:
Salesloft is already your main sales engagement tool of choice.
You require dialling and messaging capabilities.
You would like to have the ability to have meetings act as automation triggers.
Pricing of Salesloft:
One extremely annoying drawback is that Salesloft asks you to get a quote for all of their plans.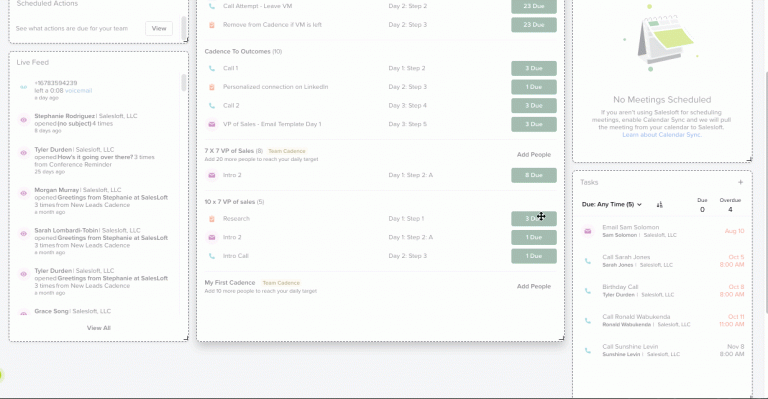 6.Outreach – Best for artificial intelligence assistance
Using Outreach as an online scheduling platform is similar to getting an assistant. They were among one of the first to invest in AI technologies to provide insights in the predictability of customer engagement, plus it has also transitioned effectively into having an appointment scheduling feature.
The remaining of its capabilities are pretty conventional, such as calendar integration, templates with conference information, and sharing accessibility within your inbox. They don't offer any calendly group scheduling-like features as the focus of this products value proposition is more centred around automated cold outreach, not scheduling.
While Outreach is a powerful tool and one of the calendly alternatives for outbound email prospecting, users argue that the interface is excessively confusing. To the extent that leads are frequently overlooked or lost.
Features of Outreach Meetings include:
Automated follow-ups using AI, notifications about meetings.
Google Calendar, Office 365, as well as Salesforce integrations.
Place availability as bookable time slots so that prospects may quickly schedule meetings.
Prospects could use the public calendar links to choose a time slot which suits them or reschedule this time.
When to use Outreach meetings:
You are already using Outreach as a platform for sales engagement.
You need AI to handle tasks around meetings.
You wish to schedule meetings for your colleagues.
Pricing for Outreach Meetings:
Outreach has also chosen to be covert regarding its prices. You need to contact them to receive a quote for their products. On a small side note, this is where calendly free plan is transparent and easy to access, with everything explained onsite.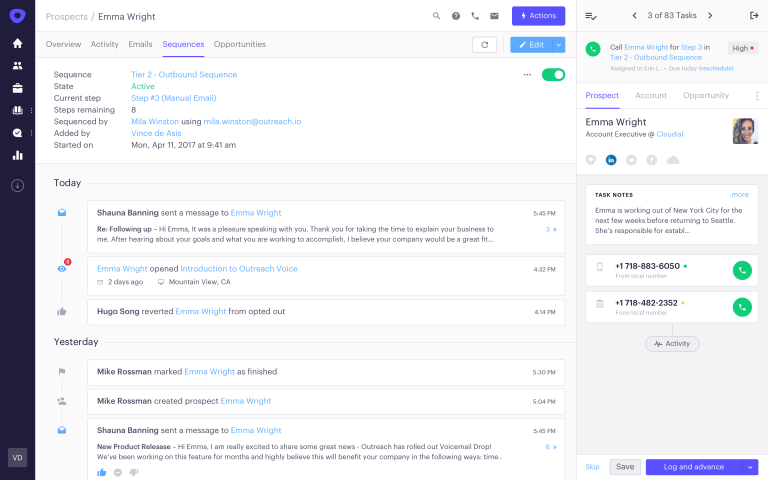 7.YouCanBook.me – Ideal for small, medium or large businesses
YouCanBook.me is a simple online appointment scheduling platform. Simply link your current calendars to the software to determine your availability. You could then personalise your free online scheduler page by selecting your availability, meeting duration, and notification preferences. The link to your booking page may be shared through any communication channels or placed on your website. The appointment will display on your linked calendar once they select a time slot.
YouCanBook's features include:
Complete control over when you want to schedule meetings, with some of the key features, slightly differing to other Calendly alternatives.
You and your customers have the ability to reschedule and cancel appointments at any time.
Monitor, reschedule, rearrange, and track all customer interactions.
Having visibility on your team's availability.
Several available times per slot.
Safeguard your booking page with a passcode.
When to use YouCanBook.me:
You want to automate the process with Zapier.
You need complete control over your design and style.
You require multiple bookings per slot and manage a pool of resources.
Pricing for YouCanBook.me:
YouCanBook.me's cost is similar to Calendly's, but you'll receive more "turbocharged options" than calendly scheduling. Which may be handy if you require a much more flexible system, it's also worth noting how they rate their subscriptions, given that YCBM pays by the calendar.
If you bill monthly, you'll pay $10/month; if you bill annually, you'll pay $9/month; and if you bill every two years, you'll pay $8/month.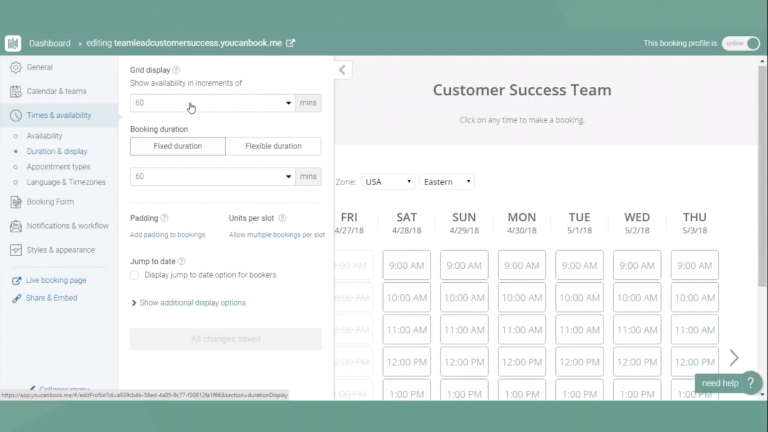 8. 10 to 8 – Ideal for large firms
With various functions and integrations, 10to8 is an online appointment scheduling platform built for large teams in big companies. 10to8 offers a variety of solutions, including one-on-one and corporate scheduling. It integrates with Salesforce, Pipedrive, Google, Outlook and iCal.
Features of 10 to 8 include:
Live reporting of business performance and tracking attendance.
It manages timezones and languages bookings.
Customising your online booking homepage, messaging, and mail design.
With features like SMS, email, voice notifications, meeting no-shows can be reduced by up to 90%.
When to use 10 to 8:
You want to increase the number of meetings bookings, eliminate no-shows and reduce admin time.
You want to allow people to book a meeting from your WordPress website.
You want to administer several rooms in one place and see a summary of your calendar among all rooms.
Pricing for 10 to 8:
This online scheduling platform remains free for small enterprises. There is a 30-day trial period, the basic plan is $9.60 per month, while the Grow plan costs $20 per month. It costs $40 monthly for larger businesses and is bespoke for Enterprise.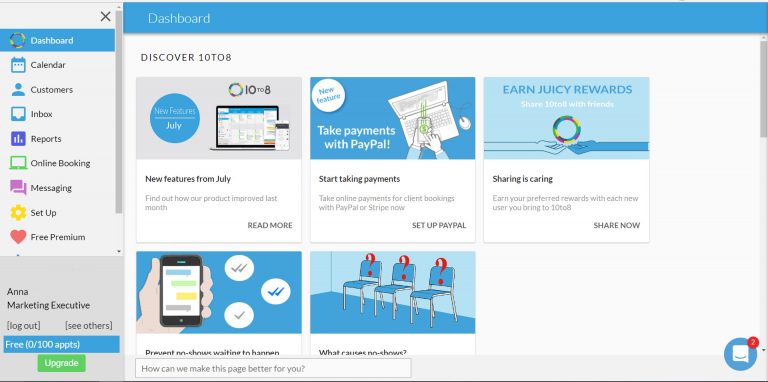 9. Mixmax – Ideal for a sales engagement platform
Mixmax is a sales interaction tool similar to Salesloft and less like the other Calendly alternatives. On the other hand, its free meeting scheduler and appointment booking function are strong enough to replace the Calendly app, if you are looking for a simple scheduling tool.
Your calendar availability link can be shared on your website, emails, and placed on your social media profiles. On top of that, the platform integrates seamlessly with Salesforce, which can be handy for people using this CRM.
Features of Mixmax include:
Email and SMS notifications are automatically sent for meetings, depending on settings configured.
A dedicated page is provided for making an booking online.
Time zones are detected, and schedules are created correspondingly.
When to use Mixmax:
When you wish to tailor emails for mass outreach campaigns.
When you want to embed a booking link onto your site.
When you want to streamline menial tasks.
Pricing for Mixmax:
The free plan like the calendly free plan is available indefinitely. The trial period is 14 days long. There are monthly and annual billing options. If invoiced annually, the starter plan costs $9 per month, the small business plan costs $24 per month, and the growth plan costs $49 per month.
If billed monthly, the beginning plan costs $12 per month, the small business plan costs $29 per month, and the growth plan costs $65 per month. Custom pricing is available for enterprises.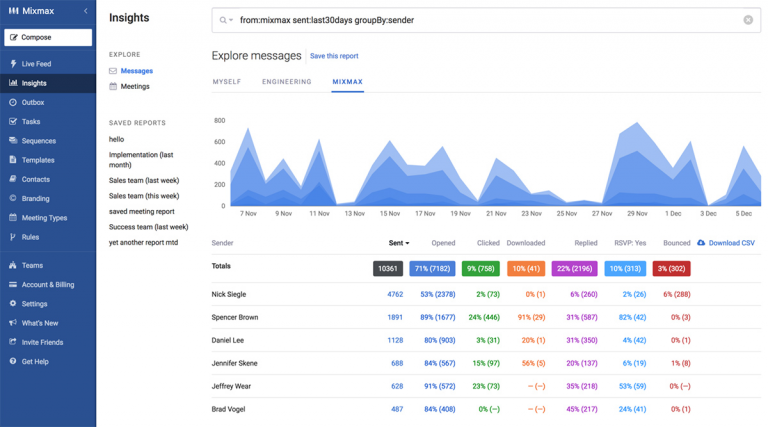 10. Setmore – Ideal for businesses and individuals
The next on the list of Calendly alternatives is Setmore. It's a free online appointment scheduling platform for individuals and organisations.
Setmore, unlike the Calendly app, could be installed on your desktop and used offline, making it one of those Calendly alternatives, for individuals who can't always use web-based applications. Each account includes a booking page which you can customise to showcase your service, accessibility, and pricing online.
Features of Setmore include:
Showcasing testimonials from satisfied clients to attract future bookings.

A simple site plugin for scheduling appointments quicker.

Placing a scheduling link on your Facebook page as a place for people to schedule a meeting.
When to use Setmore:
When you want to manage email and text message notifications.
You are in the service industries, such as salons, spas, doctor's offices and so on.
When using Square or Stripe to secure online payments.
Pricing for Setmore:
Setmore, sadly, does not provide a free trial. It does offer a 30-day money-back guarantee on its plans, while also offering a free plan. The premium plan costs $12 per month per user, and the pro plan costs $9 per month per user.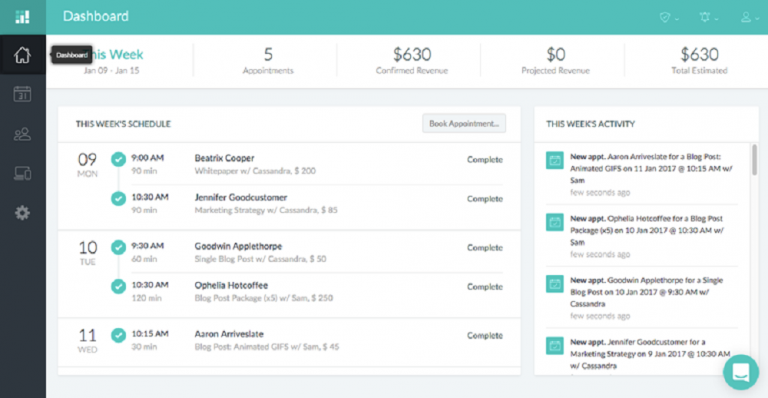 Why people look for Calendly alternatives?
There could be several reasons why people look for Calendly alternatives, such as:
1. Pricing: Calendly's pricing plans may not suit everyone's budget or needs. Some people may find it too expensive or not offer the features they require.
2. Feature limitations: Calendly may not offer all the features that some users need, such as custom branding, more control over scheduling, or integration with specific tools.
3. Privacy concerns: Some people may have concerns about sharing their calendar information with a third-party service like Calendly.
4. User experience: Some users may find Calendly's interface confusing or difficult to navigate, or they may prefer a more visually appealing and user-friendly alternative.
5. Customer support: Some users may have had negative experiences with Calendly's customer support or prefer a company that offers more personalized support.
6. Integration: Some people may require integrations with specific software tools or platforms that Calendly does not support.
Ultimately, people may look for Calendly alternatives for a variety of reasons, depending on their specific needs and preferences.
Calendly alternatives, which one is the best for you?
Booking links are abundant.
If all you require is a simple booking link for a single person, YouCanBookMe is the way to go.
Alternatively if you need a platform that solely focuses on group meetings, try Doodle.
Otherwise, if you want to convert inbound leads into meetings that turn into sales, by leveraging advanced automation, QikChat's online scheduling platform is the way to go.