When2Meet is a simple tool for organising events with multiple participants.
In this post, you'll discover how to use When2Meet, what it is about, and how to make scheduling group meetings effortless.
(plus, we'll also show you a secret, more robust, superior alternative.)
What Is When2Meet?
When2meet is a web based calendar that helps you find the perfect time for meetings with multiple attendees.
In essence, you create a poll where everyone marks their availability and then create a meeting at a time when everyone is available
It eliminates the hassle of going back and forth with your colleagues and finding a suitable time.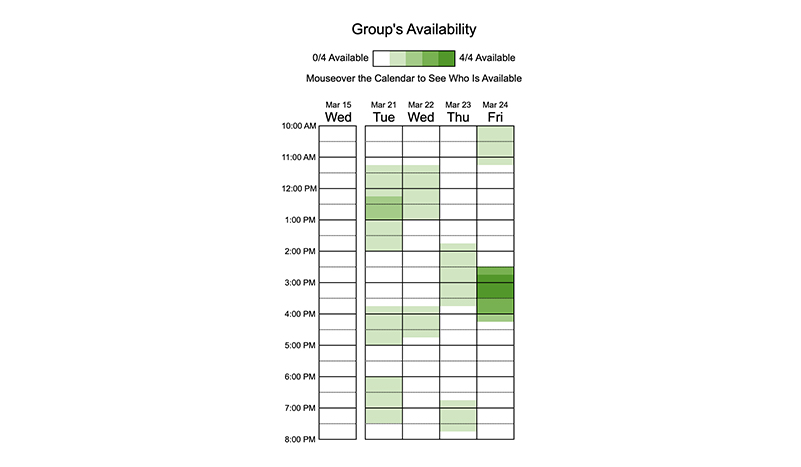 3 Reasons to use When2Meet?
When2Meet is an excellent tool, whether you are a large team with weekly check-ins or a freelancer, having 1-on-1 meetings with your clients.
Here are some of the best reasons why to choose When2Meet.
1. Free & Unlimited
There are no limits when it comes to the number of meetings. You can schedule as many meetings as you need.
And all of that without spending a penny – it's completely free.
2. No Registration Required
The one thing that discourages people from attending meetings is the need to sign up.
You just hate it, don't you? You have to create an account for a tool you will never use again, and you get endless spam emails from the company.
When2Meet overcomes this objection and allows users to join meetings without registration.
3. Simple & Highly Intuitive
It is an extremely simple tool.
There is no need to watch a 30-minute-long video to understand how to use When2Meet. It's suitable for everyone – even your less technically-skilled staff on the team.
How to Use When2Meet?
In this section, you'll see a step-by-step guide on how to use When2Meet for your team.
It may seem like a long and tedious process, but once you get the hang of it, you can schedule a group meeting in less than two minutes.
1. Name Your When2Meet Event
Label your event with something your call participants recognize – so they don't get confused or don't attend it.
You'll just need to hover your mouse over to the Name field and type in your event name.
Here are a few good and bad examples of event names.
Jack London and Jeany Logan – Conference Call
Marie Heyman & Design Team – Weekly Meet Up
Jeany Call
Conference call
It should be clear from the meeting title who is on the call and what it is about.


2. Select Your Availability
Next, you'll need to select your availability for the meeting.
You can do that by clicking on the red squares in the calendar on the left side. You can also click and drag to select multiple dates
Tip: Here is some quick advice on how to use When2Meet for weekly check-ins. Change the settings to the Day of the Week and select days for your weekly meetings.


3. Suggest Convenient Times
You might be wondering why you can't select specific times.
This is because you want your calendar to be as flexible as possible for other participants. That way, your partners can select what times suit them the most.
But of course, there is an option to set a time range when you are available.
Here is an example of how to use When2Meet availability time range.
For instance, if you know that your meetings range from 8 AM to 10 PM, you can select the availability times to suit this range.
After you select the times, you click on Create Event, and the event will be created.

4. Create a Username (and password)
You might be a bit confused about how to use When2Meet accounts. The thing is, you have two options; you can.
Create an account without a password
Create an account with a password

But we highly recommend creating an account with a password so no one can sign in under your account and attend a meeting.
Don't worry about spam emails from When2Meet, they send none.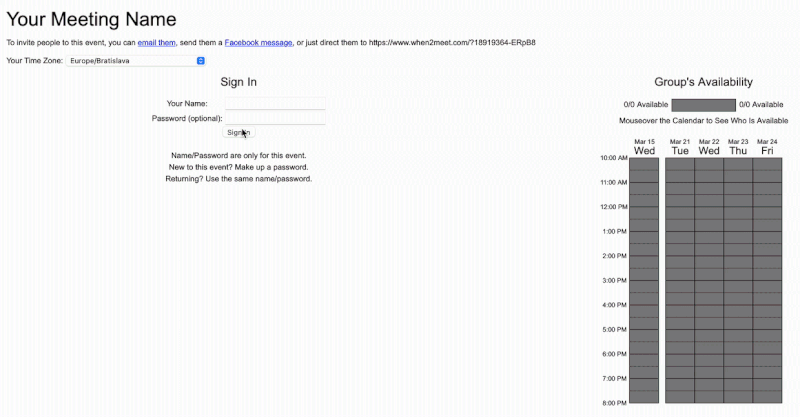 5. Share the Invite with Other Participants
You have now created a When2Meet poll. The next step is to invite participants to select their availability and find a suitable date and time.
You can do that by sharing a link on top of the screen.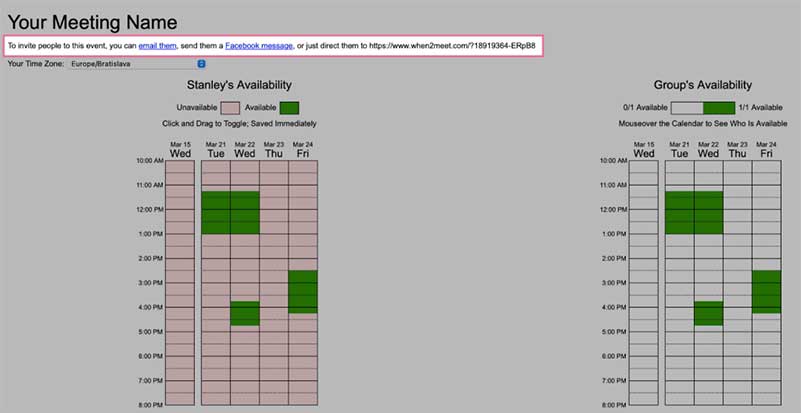 6. Receive Responses & Set the Meeting
As the participants start to mark their availability, you'll see it in the availability table on the right. If you hover over it, you'll see who is available and when.
As you see in the example above, Friday at 3 PM works for everyone.
You'll then just need to create a meeting inside of your favourite meeting app or invite people for a personal meeting at that time.
There is nothing left to say on how to use When2Meet – it's extremely straightforward.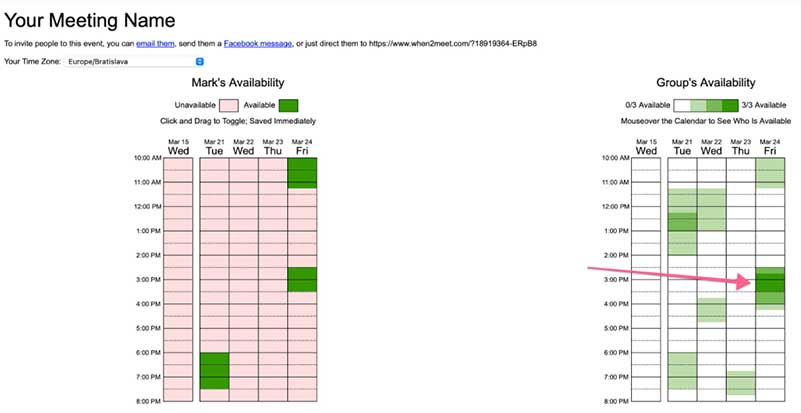 The Best When2Meet Alternative
When2Meet is very limiting and can make your business seem unprofessional.
There are far better alternatives that get the job done quicker, integrate with every popular Calendar app, and help you customise your events.
(which can significantly increase your chances of a successful meeting.)
Here is the best When2Meet alternative.
What Is QikChat?
QikChat is a powerful scheduling automation tool, used by anyone in a business development role, that can act as your digital sales associate.
QikChat will not only help you boost meeting attendance by providing features that enable instant meeting management, but also organise key meetings throughout your sales cycle.
Each meeting is clearly identified as meeting one, two and etc. Giving complete coverage on the number of days between key meetings, identifying whcih ones are at risk of cancellation. 
This is a tool that is very different to When2Meet, that sits comfortable in your sales tech stack. 
It has a sleek design, allows customization, and removes the manual tasks that When2Meet still requires you to do, for the scheduling part of their product. 
Top 5 benefits of QikChat
Here are some of the most beneficial features of QikChat.
1. Meeting analytics and insights
Have a complete view of key meeting metrics that help you uncover lead to meeting insights that create sales opportunities for your team. For example, find out how long it takes for your meetings to be booked and the number of completed vs non completed meetings that are attended.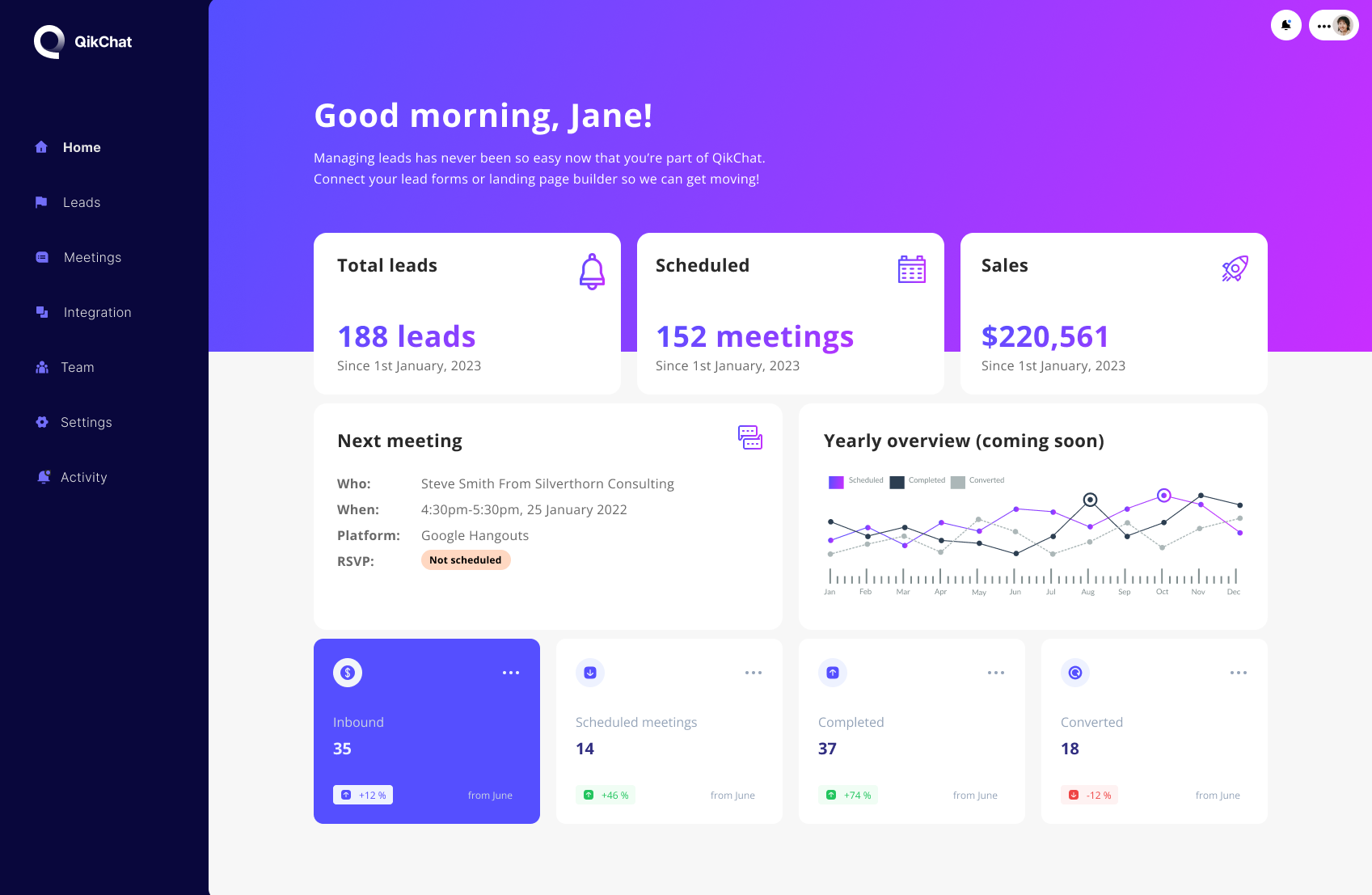 2. QikChat calendar
Expediting rescheduled and cancelled meetings with features that remove the back and forth, offer earlier alternatives, bringing the meeting time forward or reschedule the missed meeting instantly, with one click.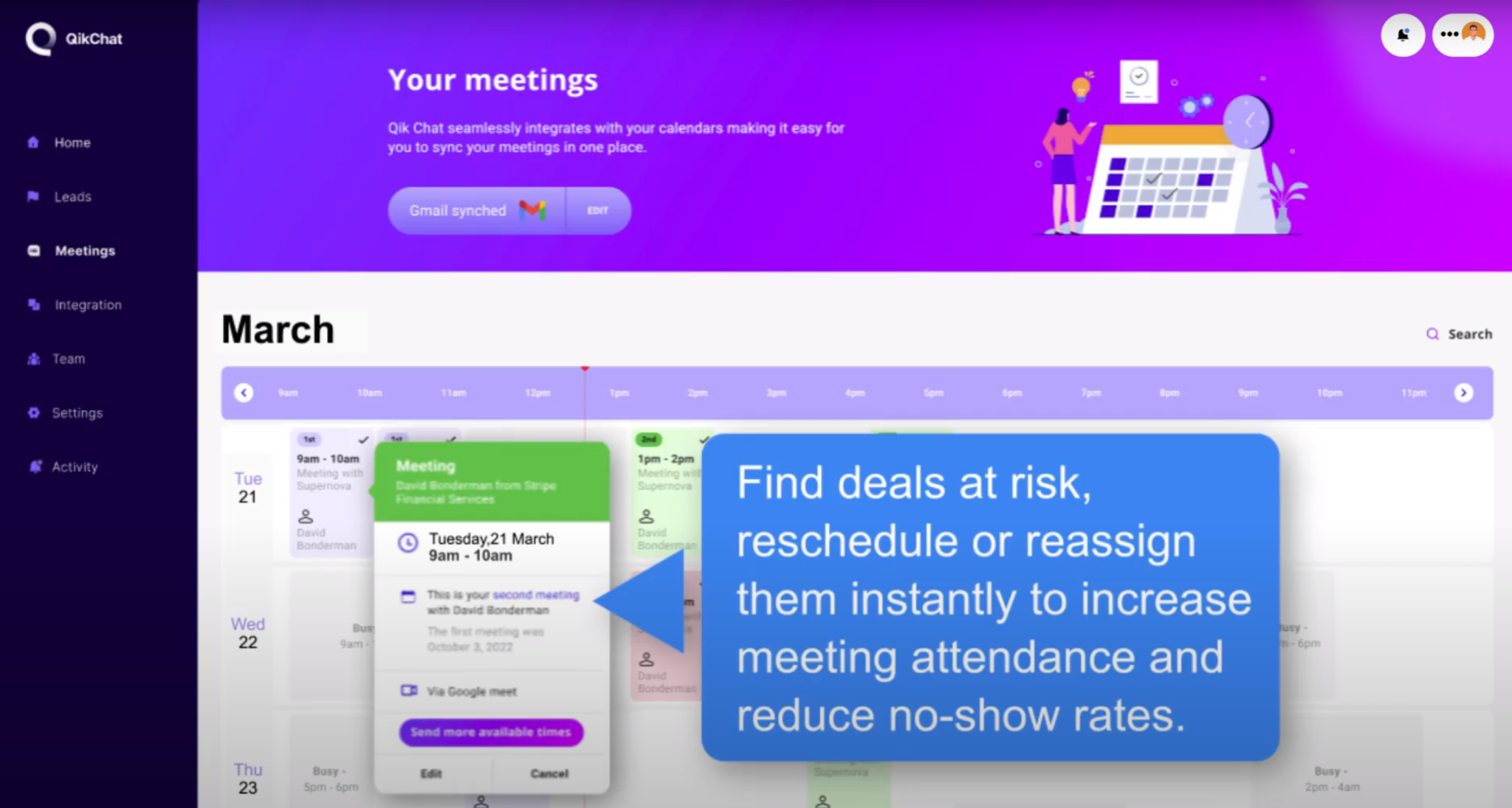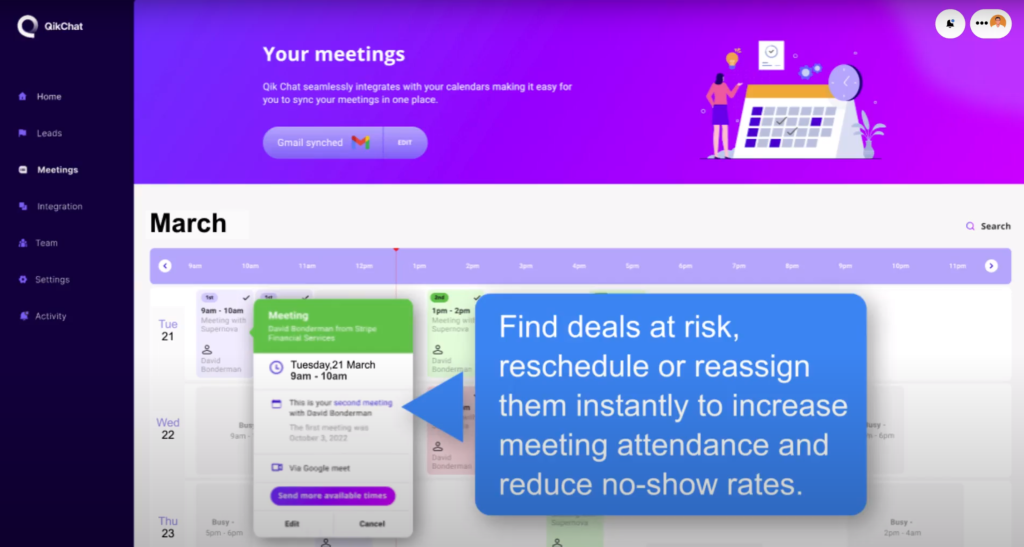 3. Integrations
Bypass the big lead drop off rate that taking your leads to landing pages hold, our out of the box lead from integrations capture the information after form completion, beginning the scheduling automation process instantly.
4. Advanced round robin distribution
Where you are able to re-assign a lead after they are in the queue. Providing greater flexibility to your lead distribution.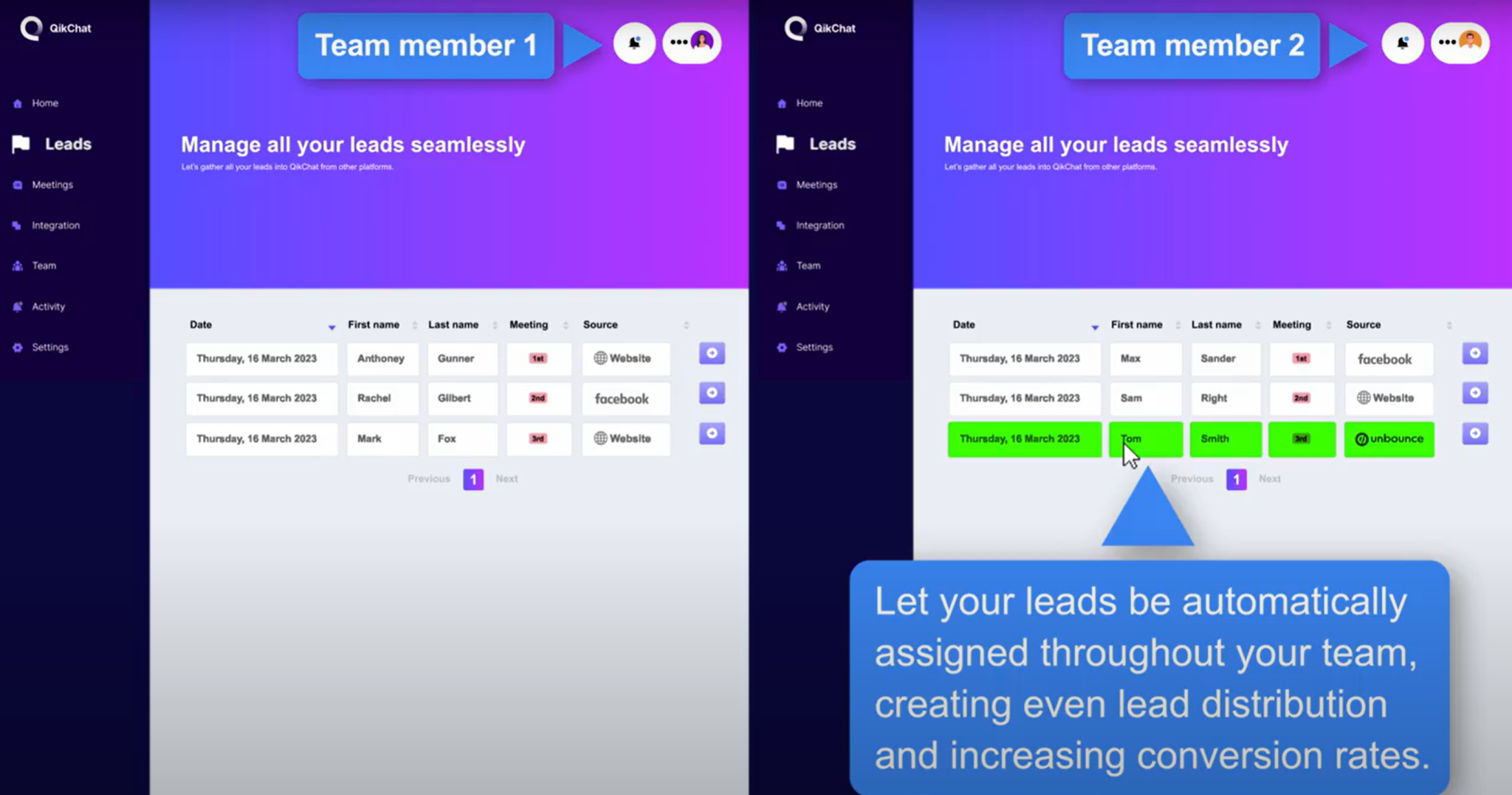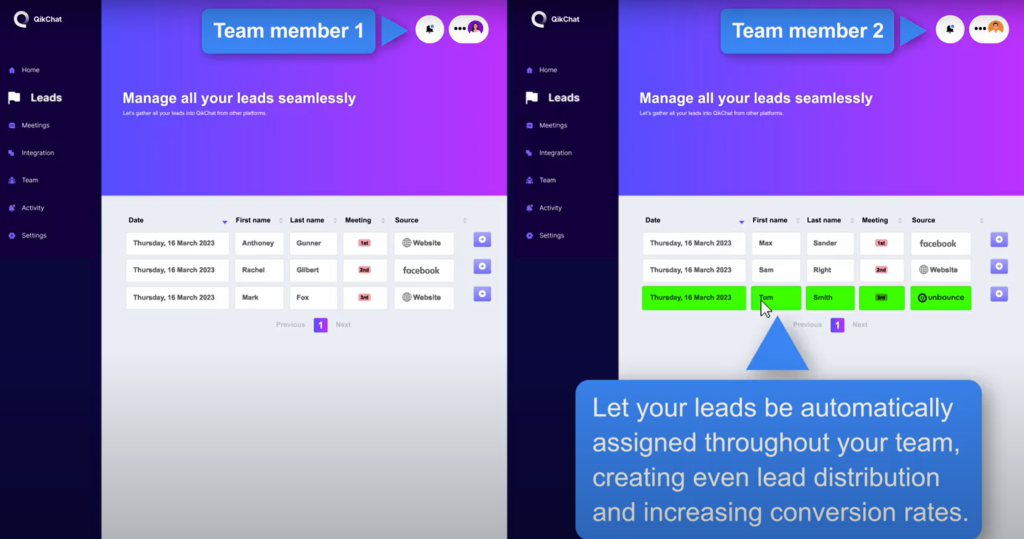 5. One click scheduling
With an auto-accept feature optional. Removing the need for a lead to accept the calendar invite after they have already selected a time. Calendly scheduling has definitely influenced this significantly but online scheduling platforms are evolving to remove not just one but all the friction points in this process.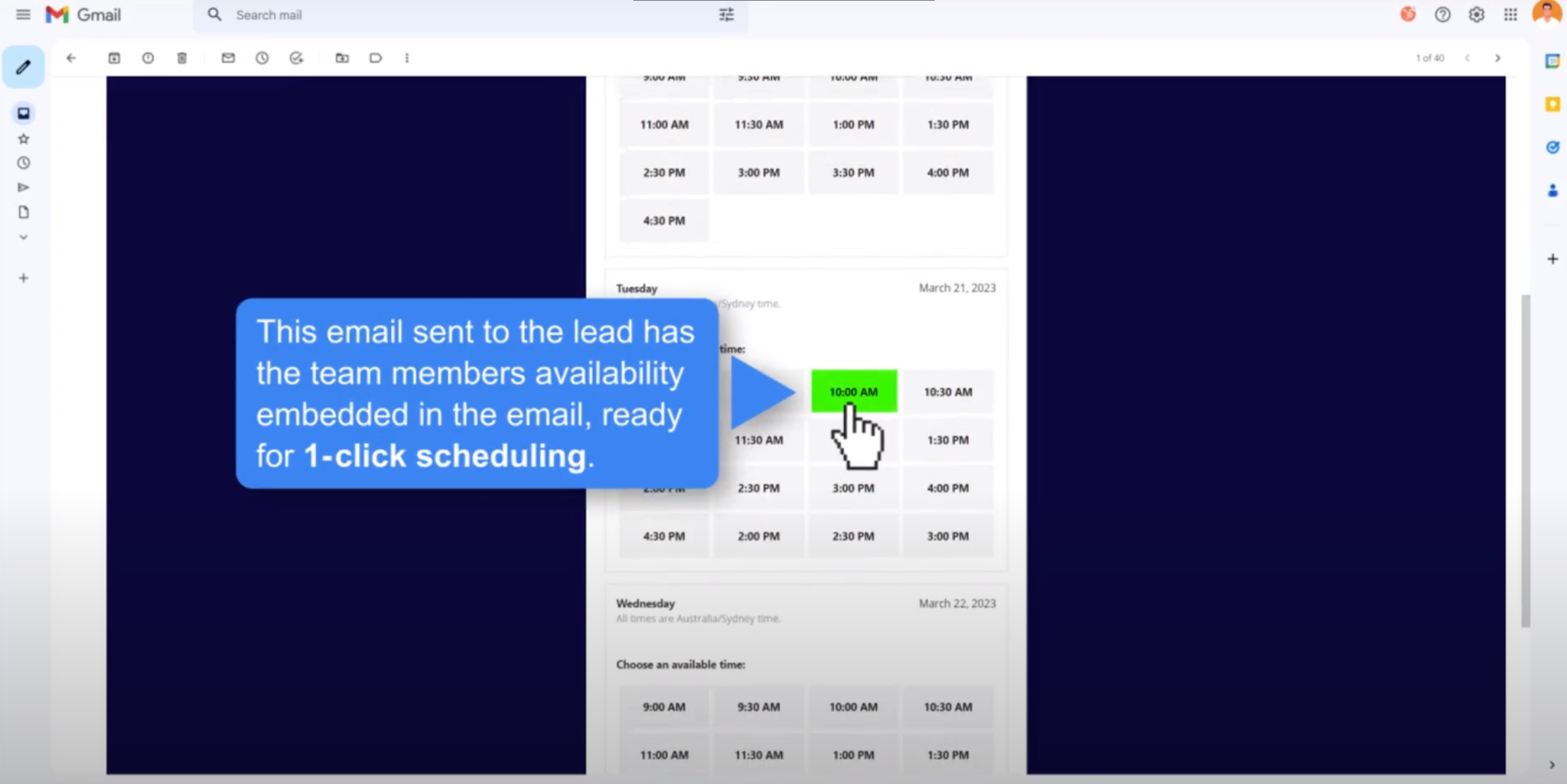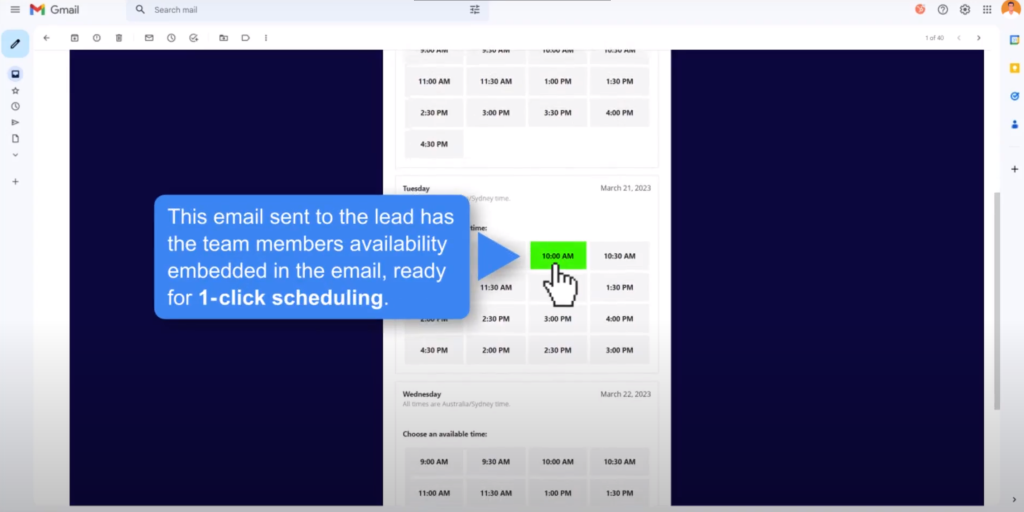 Pricing
Check out our pricing page here. If you have any questions, send through a message in the bottom right corner or fill in the lead form and we'll get back to you within 24 hours. 
Does When2Meet Adjust for Time Zones?
Yes, When2Meet supports different time zones.
Here is a bit more information about the time zone functionality from When2Meet developers.
"We've updated When2Meet to now include support for scheduling events across multiple time zones. Each participant's time zones are automatically detected for newly created events. The grid is shown as appropriate for each user's time zone, including shifts due to daylight savings." – When2Meet Dev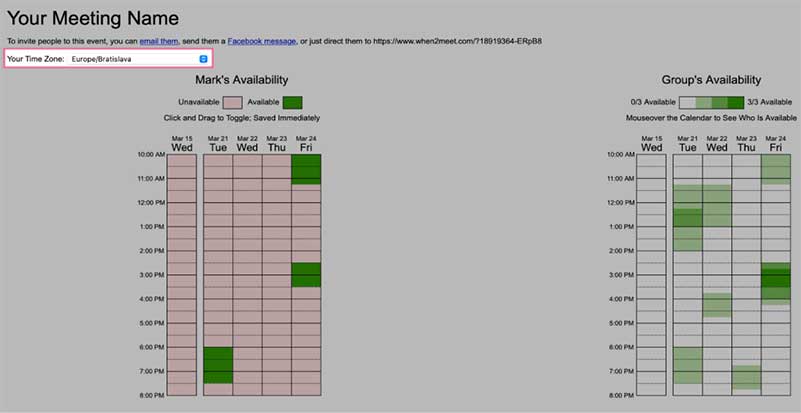 Here is how to use When2Meet time zone features.
You go to your meeting settings and select your timezone on the left side, right under your meeting link.
The table times and dates will automatically change to fit your time zone.
Having the option to choose different time zones is a must for international teams. Without that, the When2Meet poll would be useless.
Just imagine marking your availability and then discovering you're in a different time zone.
Or trying to calculate the time difference in your head.
It would be a total disaster.
6 Limitations Why When2Meet Might Not Be For You
When2Meet is very simple – but also very limited.
In this section, we will look at the biggest downfalls of When2Meet and why it might not be the right choice for your team.
(you'll also learn about a more advanced alternative that eliminates all of these limitations.)
1. No Meeting Features
You have literally no other features except for a When2Meet poll.
There are:
No Integrations with any Calendar or Meeting apps
No reminders
No custom form fields
No permissions


It's not a standalone tool, and you'll need other applications to set up a meeting.
The worst thing about it is that it takes a lot of time and effort to organise group meetings since you have to do everything manually.
2. No Customization
You want to be perceived as a professional. That is the only way to raise your value, make your products or services seem high-quality, and close more deals.
Unfortunately, that is impossible with When2Meet…
There is no customization, you can't add your branding, and you're stuck with 90's design.
3. No Mobile Optimization
The most annoying thing about When2Meet is that it's not mobile-friendly.
Nowadays, most people access everything from their phones. Unfortunately, When2Meet makes it almost impossible to access from smaller devices.
Just look at the example above.
There is no way you can select your 15-minute chunk availability on smaller screen sizes.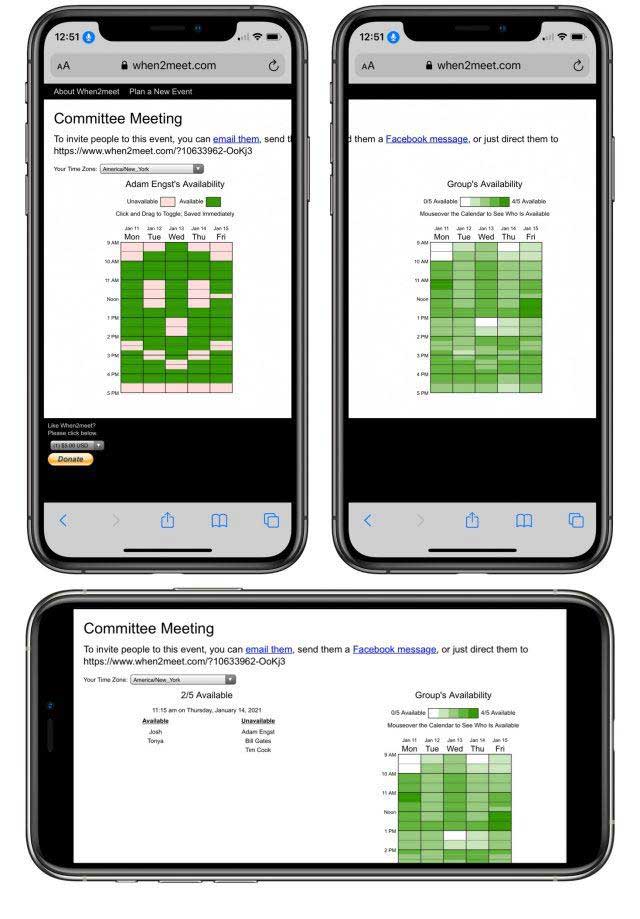 4. Time zone constraints with When2Meet:
Coordinating meetings through When2Meet can be challenging when participants are located in different time zones.
The tool relies on each participant indicating their availability, which can become problematic due to time zone differences.
It may take significant effort to find a suitable time that works for everyone.
5. Lack of real time communication:
When2Meet is a scheduling tool that doesn't offer real-time communication features such as video conferencing or chat.
When2Meet users have to use other tools or platforms even if a suitable time is found, making the process more complicated and time consuming.
6. Dependency on Participant Responsiveness:
To schedule effectively with When2Meet, it's important for all participants to promptly update their availability and respond in a timely manner.
If When2Meet participants fail to do so, it can cause delays and make it difficult to book meetings efficiently.
Conclusion
Now you know how to use When2Meet to the fullest.
It's a great tool for finding a meeting time that suits all your participants. It features a very simple design, and it's completely free. But it has limitations like lack of integrations, no mobile-friendly interface, and plain design.
Fortunately, we are here to help you with that…
QikChat will speed up your work, eliminating the hassles of switching between different apps and making you look more professional.
(allowing you to close more deals and get a better outcome from every meeting.)
Sign up for our free trial today and organise group meetings with a successful outcome now.