4 things to know before launching lead generation ads to get the most out of your leads, and the tools you need to start your lead management process.
Today I'm going to help you avoid the typical pitfalls people fall into when generating leads for your business. You need to know where to locate your leads after they convert, and which tools to use to get those all-important conversations happening sooner rather than later.
What is this – 2009? Nope, it's 2022 and the tools you need are right at your fingertips.
Your business has a great customer base of mid-to-high ticket value services, you're keeping a high percentage of these customers and they're starting to call you for advice on how to grow.
And then you realise it's also time for your business to grow. So, what do you do?
You create content for Facebook Ads. Or maybe you know someone who knows someone who's great at Google Ads, so you start talking keyword targeting lingo to get the most out of your lead generation ads.
Fast forward to the second month, cause we all know it takes a month to start seeing decent engagement. The people engaging on your ads are starting to fill in those 4-6 fields in that form and becoming what we all love – leads!
You check the ads dashboard and there they are. It's raining leads and you're picturing that five-star hotel in that holiday destination you've always wanted to go to… BUT. Wait.
There's one big problem. You can see all these leads on the dashboard, but you can't see who they are, so you're wondering – where the heck are my leads?!
Don't worry – they're easy to find, as long as you know where to look.
After leads convert from lead generation ads, where are the leads stored in advertising platforms so I can initiate my lead management?
On Facebook, Google and LinkedIn lead generation ads, the lead data is almost always stored in a separate interface of the platform. And here's where you can find the lead data on these platforms:
On Facebook, click through to: Your Facebook business page > Publishing tools > Forms library. You can see all the Lead Gen Forms created in that account right here.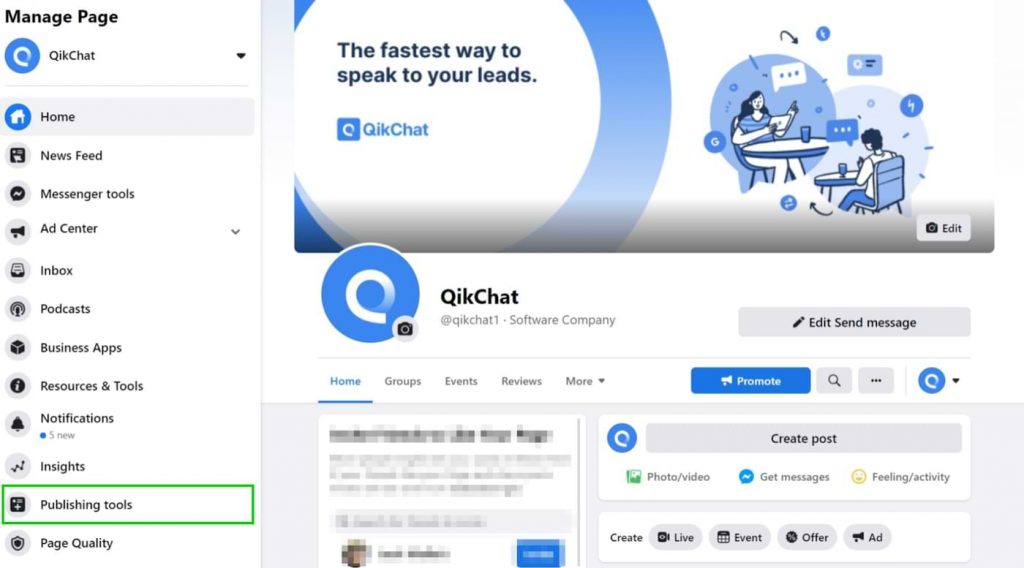 On Google, you'll arrive straight at the All Campaigns tab. Click through to: Ads & extensions > Extensions >. The leads will be stored in a CSV file in the extension type, as you can see in the last green rectangle.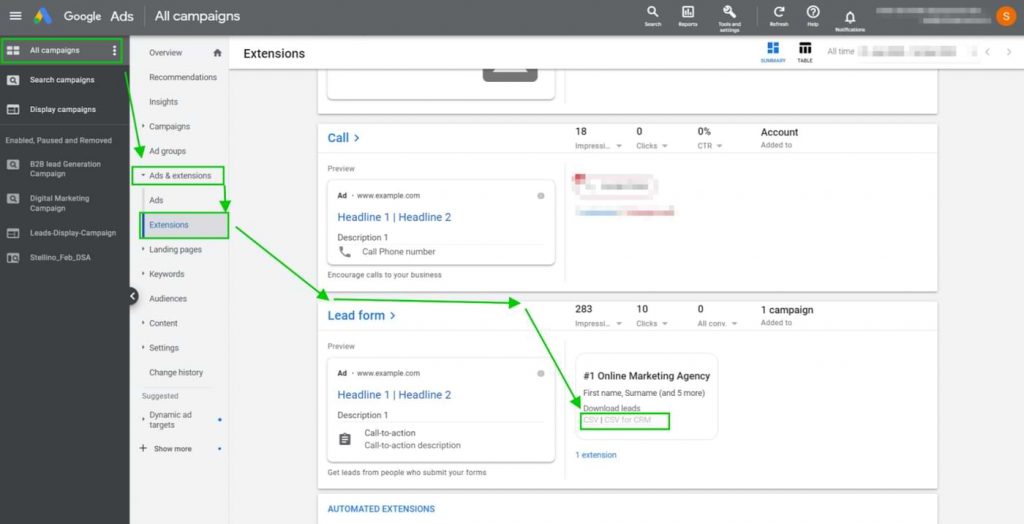 On LinkedIn, click through to: The 'Advertise' button in the right corner > select the account in your campaign manager account. Click the 'Account Assets' button, then drop-down options will appear. In the drop-down options, click 'Lead Gen Forms'. You'll then arrive at the Lead Gen Forms page, where you'll see a full list of all the Lead Gen Forms created in that account.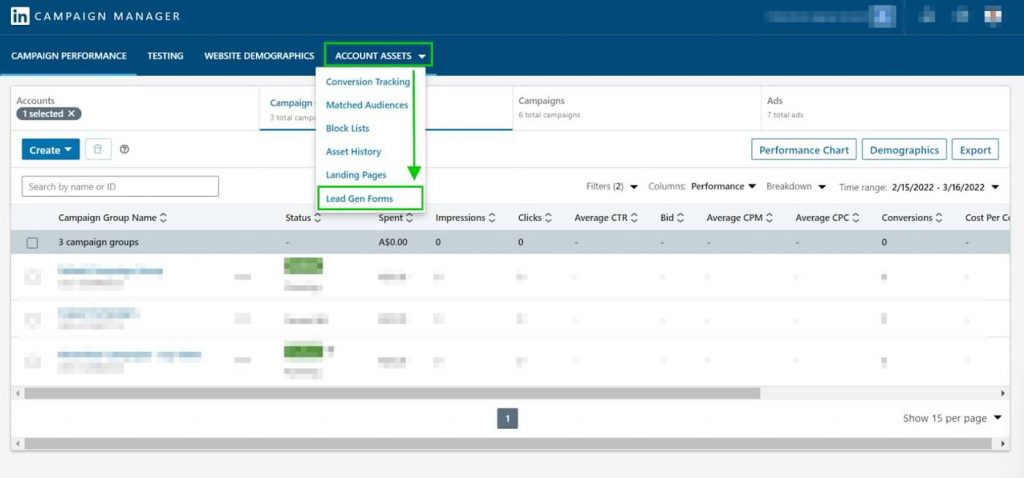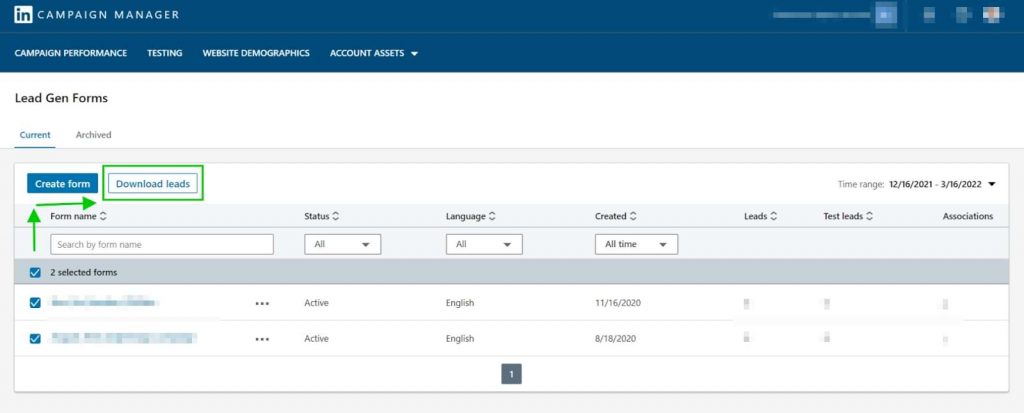 That's great – but what lead information is stored in these platforms?
At a minimum, the lead data stored will be the fields in the form from the advertising channel. You'll also see some other features of the ad, like ad id, ad name, adset id, etc.

And which software can integrate with advertising platforms to transfer the lead data to where I want it to go?
Zapier is an integration app where its drag and drop functionality makes it easy to connect apps to turn manual tasks into automation, right after setting up an account. You can connect directly with where the leads are stored, once they've filled out the form from the engaged channel. This lets you send this information on whatever journey you desire from the 1000s of integrations to other apps they offer.
While this is very similar to Zapier, providing the functionality mentioned above, Integromat is a low-code/no-code tool that supports more advanced workflow automation. You can create more advanced scenarios that require deeper knowledge of process automation logic.
Why is connecting software to create a lead management system so important?
Connecting software means you get the most value out of the leads you spend all that money and time generating. In fact, I'd argue that it's more important than focusing on generating the highest amount of leads, which is what everyone running lead generation ads always seems to focus on.
There seems to be this illusion that, if you generate more leads from your ads, then they're more successful.
What is this, a counting contest?
This completely misses the point that the idea behind this form of advertising is to generate more conversations with new, interested, potential buyers. The whole point is the conversation – without converting, those leads you've carefully generated are simply data in a spreadsheet. That's it!
In any services or high-ticket product (digital or physical) based business, there are on average 8 touches before the buyer goes ahead with the purchase. Organisations that contact a lead within the first hour are 7 times more likely to qualify the prospect than an organisation that responds in two hours. And let's not forget this is just the first qualification stage. There will be lots more stages when other departments have requirements to meet from broader company policies.
Using an advanced scheduling platform like QikChat can take the pressure off building your own lead management system, as it provides the main connections between the core touch points to speak to your leads.
As the lead comes in through the digital channel of choice, the assigned team member's calendar is immediately shared with the lead.This allows leads to book time in the right team member's calendar with just one click, as the calendar is embedded in the team member's email.
So it's already set up, with no need for a separate scheduling link that has to be re-filled out by the lead again.
Try QikChat for free now.our lead management process can take the pressure off having to build this process yourself. Covering all the stagesto successfully speak with your leads, fastening your lead response time.